A primitive amulet made out of bones that are bound together with string.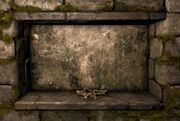 Found on
Level 2
on the ground in on of the alcoves in the room where you get ambushed by 3
Undead Soldiers
. It can only be used to obtain the
iron door
treasure
inside
level 9
.
There is also one on Level 4, in a secret room by a formation of Undead Soldiers.