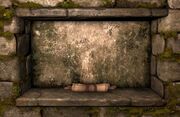 Rolled up parchment with messages left on them in the dungeon. They often contain information about items or potion recipes. There are also Spell Scrolls which give the runes required to cast spells. Toorum's Notes count towards an achievement.
Ad blocker interference detected!
Wikia is a free-to-use site that makes money from advertising. We have a modified experience for viewers using ad blockers

Wikia is not accessible if you've made further modifications. Remove the custom ad blocker rule(s) and the page will load as expected.